This section focuses on the positive contributions disarmament can make to climate protection and sustainable development. This includes the ways that disarmament can help reduce carbon emissions from global militaries, the contributions that disarmament can play in protecting livelihoods and the physical environment, and the financial benefits to economies and sustainable development that can arise from cuts to military budgets.
Disarmament is critical for sustainable development (see Info box 1: Summary of the Sustainable Development Goals and their relationship to disarmament), and must be included in SDG dialogues, processes and forums. Disarmament is especially important for climate protection. Global weapons production and military operations contribute at least 5% of the world's carbon emissions. The US military alone produces more carbon emissions than most countries in the world, including industrialised countries like Sweden, Switzerland and Norway (See Pentagon Fuel Use, Climate Change, and the Costs of War and The U.S. Military Emits More CO2 Than Many Industrialized Nations). In addition, military deployment and armed conflict between nations are often related to protecting oil supplies, contributing further to a fossil-fuel based economy that is destroying the climate. Finally, the huge budgets, investments and human capital dedicated to weapons production and the military, drain resources that are required to address climate change and achieve the SDGs.
Parliamentarians can:
Ensure that disarmament issues and objectives are included in national and international forums on addressing climate change and achieving the Sustainable Development Goals;
Require reviews of the military carbon footprint from their defence ministries, along with plans to reduce carbon emissions;
Consider ways to reduce defence budgets in order to liberate resources for climate protection and sustainable development;
Develop policies or guidelines for sovereign wealth funds and other financial institutions managing public funds, which would prioritise divestment from controversial weapons (e.g., nuclear, landmines, cluster munitions) and would prioritise impact investment to support climate protection and sustainable development;
Support economic conversion programmes to protect jobs and social cohesion when cuts are made to defence spending or military forces.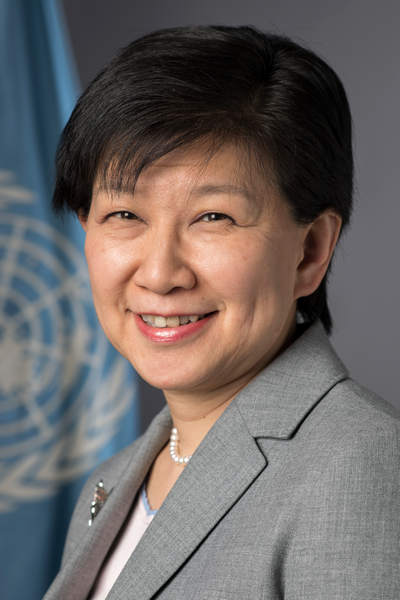 Military spending, climate change and sustainable development
In 2020, we start the 10-year countdown to delivering on the SDGs. Reining in unconstrained military spending would go a long way in freeing up crucial human, financial and technological resources urgently needed for this "decade of action" to transform our world. It is estimated that the true cost of addressing the devastating effects of climate change in developing countries is $56-73 billion per year. If only 10 per cent of today's global military spending were spent towards SDG 13 on climate action, the current costs of adapting to climate change in developing countries would be covered several times over.
On the occasion of the Global Days of Action on Military Spending, I echo the recent appeal of the Secretary-General for a global ceasefire in the face of the ongoing health crisis. I also renew my call for the international community to redirect the world's finite resources towards promoting the well-being of every citizen and striving for a peaceful and secure world for all. Let us put humanity at the centre of our security.
Izumi Nakamitsu, UN High Representative for Disarmament Affairs, April 9, 2020
Relevant international agreements:
Article 26 of the UN Charter, 1945
UN Sustainable Development Goals, adopted 2015
Paris Agreement on Climate Change, adopted 2016
UNGA resolution 74/57: Relationship between disarmament and development, adopted 2019
Examples of good parliamentary practice:
Economic conversion: US Congress and military base closures, Public Law 101-510
As détente developed between the USSR and United States at the end of the 1980s, the US government began a programme of downsizing the armed forces and closing military bases. This expanded when the Cold War came to an end with the dissolution of the USSR. In order to protect jobs and economies in the localities of the bases to be closed, the US Congress adopted economic conversion programmes to accompany the base closures. One example is public law 101-510 adopted in 1990. In many cases the economic conversion programmes succeeded not only in maintaining jobs and the economy, but in bringing additional social benefits to the communities.
Several military base reuse projects have explicitly used smart growth techniques to plan redevelopment. The former Lowry Air Force Base outside of Denver is now a flourishing community that preserves its military history and honors its heritage as a training center with several educational institutions. It also has homes, shops, offices, and parks, all of which are welcome additions to the surrounding neighborhoods. Orlando's former Naval Training Center has become Baldwin Park, an award-winning neighborhood that truly feels like a community, with new, much-needed homes, eco-logically important habitat, shopping, and offices – all just 2 miles from downtown Orlando.
UK Parliament event: Defence diversification and nuclear disarmament
On June 26, 2018, Fabian Hamilton MP (Shadow Minister for Peace and Disarmament) hosted an event in the UK House of Commons to release a report on the possibilities for economic conversion of the UK nuclear weapons industry. The report, Defence Diversification: International learning for Trident jobs, examines defence diversification and conversion projects around the world and applies this experience to the UK. It concludes that the work skills, jobs, technology and infrastructure of the nuclear weapons industry could be converted or transferred to other sectors of the economy, providing a net benefit to the UK.
It is not yet Labour Party policy to scrap Trident. However, isn't it better for the UK to shift the skills and industry we have for massive death and destruction to be used instead for enhancing life? I am committed, not only to transitioning away from nuclear weapons, but to protecting jobs at the same time.
Fabian Hamilton MP, June 26, 2018
Nuclear weapons divestment: New Zealand, Norway and Switzerland
In at least four countries – Lichtenstein, New Zealand, Norway and Switzerland – the parliaments and governments have adopted measures curtailing investments in the nuclear weapons industry. In New Zealand, these measures apply to the national bank (Kiwi Bank) and publicly administered funds including Accident Compensation Commission, Superannuation Fund, Peace and Disarmament Education Trust and the Pacific Conservation Trust. In Norway, the measures apply to the Government Pension Fund Global. In Switzerland, the adopted legislation (Swiss War Materials Act 2012) has led to divestment by most of the country's pension funds from the nuclear weapons industry. The financial performance of the funds following divestment has remained high, with no negative impact from the divestment measures.
US: Smarter Approach to Nuclear Expenditures (SANE) Act
On October 30, 2019, US Senator Ed Markey and Member of the House of Representatives Earl Blumenauer reintroduced the Smarter Approach to Nuclear Expenditures (SANE) Act in the U.S. Congress. The purpose of the Act is to improve national security and budgetary sanity by cutting redundant and destabilising nuclear weapons programmes. It would cut $75 billion from the nuclear weapons budget over the next decade. The Act has been introduced into every US Congress since 2014. It has yet to receive sufficient support in Congress to be adopted.
The US should fund education, not annihilation; that is our future. We need sanity when crafting America's budget priorities, and more and improved nuclear weapons defies common sense. The SANE Act cuts nuclear weapons and delivery systems that we don't need so we can invest in the people and programs that will make America safe and prosperous in the future.
Move the Nuclear Weapons Money
On October 18, 2016, the Inter-Parliamentary Union hosted an event to launch Move the Nuclear Weapons Money, an international campaign to cut nuclear weapons budgets, end investments in the nuclear weapons industry and re-direct these resources to supporting climate protection and sustainable development. The campaign includes public education as well as policy action and advocacy. It combines and expands work previously done on these issues by the partner organisations. The campaign also cooperates with the global fossil fuel divestment campaign in order to assist in shifting investments from the fossil fuel industry to the renewable energy industry.